Archives by date
You are browsing the site archives by date.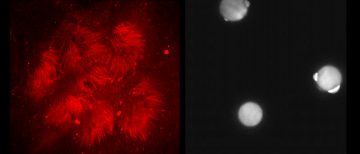 Dr. Belal Tafech (Hedtrich lab, Pharmaceutical Sciences) uses Perkin Elmer Spinning disk to perform live cell imaging of the restricted cilia beating of cystic fibrosis lung models built at the Hedtrich lab (left) and the Brownian motion of 10 um spherical particles in water (Right).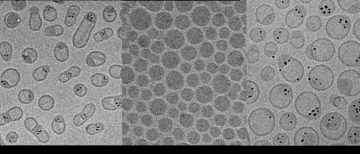 Dr. Arash Momeni (Cullis lab, Biochemistry) performs CryoTEM using the Tecnai G20 200kV TEM to examine the lipid nanoparticles. Left: 5 nm iron oxide nanoparticles and anticancer drug in lipid nanoparticles, Middle: mRNA loaded lipid nanoparticles, Right: 5 nm gold nanoparticles in lipid nanoparticles.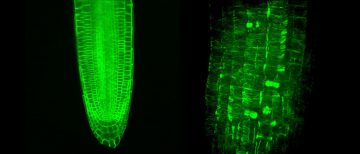 Sean Ritter, a PhD student in Wasteneys lab (Botany), uses the PerkinElmer Spinning disk to look at cell file organization in the Arabidopsis root labelled with the plasma membrane marker LTI6b:GFP (left) and microtubule organization in the clasp-1 mutant as labelled with pUBQ1:neonGreen-TUB2 (Right).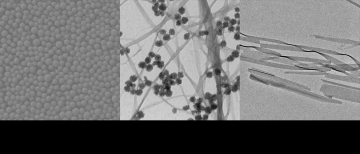 Dr. Jingqian Chen, a postdoctoral fellow in Dr. Orlando Rojas' lab (UBC Chemical and Biological Engineering), uses a Zeiss Crossbeam350 FIB-SEM to visualize monodispersed lignin particles (left, Dr. Jingqian Chen's sample). She also used a Tecnai Spirit TEM to show branched silica particles with bacteria cellulose fibers (center, Dr. Dong Wang's sample).  Finally, Dr. Chen […]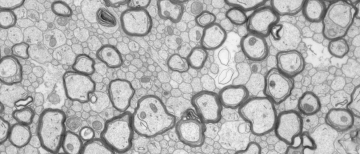 TEM micrograph of axons with myelin (shaded regions) in the corpus callosum of the mouse brain, acquired by Tecnai Spirit TEM. Image courtesy of Andrew Thompson, a PhD student in Bamji lab, Dept of Cellular and Physiological Sciences.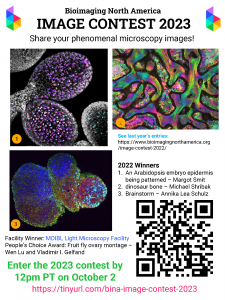 Bioimaging North America (BINA) is open to accepting subscriptions of light microscopy images for the image contest 2023! The top 3 images will receive a monetary prize and be featured in their newsletter and on social media. Annika Lea Schulz (Jean lab) was one of the top winners last year! More information can be found […]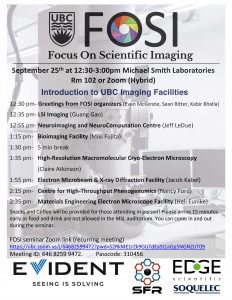 Focused On Scientific Imaging (FOSI) seminar is back for the month of September, and will take place on September 25th (Monday) at 12:30 pm in Michael Smith Laboratory (MSL) Auditorium 102 or Zoom (Hybrid). Directors, managers and staff from 7 UBC imaging facilities will be giving a talk about their facilities. It is a great opportunity for new […]