Archives by date
You are browsing the site archives by date.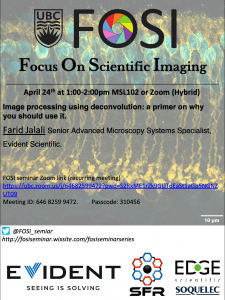 Focused On Scientific Imaging (FOSI) seminar is back for the month of April, and will take place on April 24th (Monday) at 1 pm in Michael Smith Laboratory (MSL) Auditorium 102 or Zoom (Hybrid). Farid Jalali, Senior advanced microscopy systems specialist, will be giving a talk titled "Image processing using deconvolution: a primer on why you should […]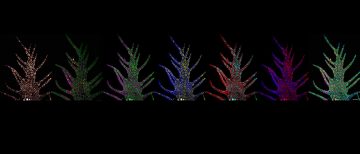 Undergraduate students enrolled in BIOL321 used the Olympus BX53 light/fluorescence microscopy to look at oil bodies in liverworts. Images show autofluorescence of Ptilidium purcherrimum, image courtesy of Dr. Eunkyoung Lee (Optical microscopy staff at Bioimaging facility).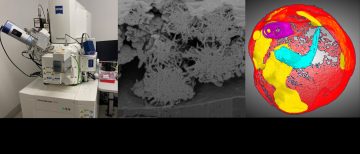 The Zeiss Crossbeam 350 (XB350) has capabilities of Field-emission SEM, Focused-ion beam milling, 3D FIB-SEM, CryoSEM, and CryoFIB-SEM. Dr. Miki Fujita (BIF Research manager), Lucas Andrew (Graduate student in MacLachlan lab, UBC Chemistry) and Dr. Sam Livingston (Post-doc researcher in Keeling lab, UBC Botany) gave a talk for the FOSI seminar in February. If you […]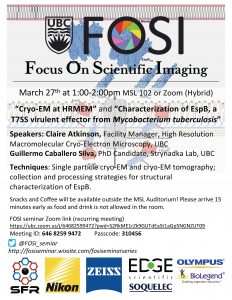 Focused On Scientific Imaging (FOSI) seminar is back for the month of March, and will take place on March 27th (Monday) at 1 pm in Michael Smith Laboratory (MSL) Auditorium 102 or Zoom (Hybrid). Claire Atkinson, Facility manager at UBC High Resolution Macromolecular Cryo-Electron Microscopy, will be giving a talk titled "Cryo-EM at HRMEM", Guillermo Caballero Silva, […]
AMIRA software is available in BIF for the image editing/analysis. If you want to know more about AMIRA software, there will be a live webinar held on March 23rd (Thursday) 9-10am. Please visit the link below for registration. Registration is required. https://app.em.thermofisher.com/e/es.aspx?s=34830204&e=74746&elqTrackId=51cbd684267d4b5e9189fd7d462ac3d5&elq=91208587806e4724b1dd957239b67f38&elqaid=3054&elqat=1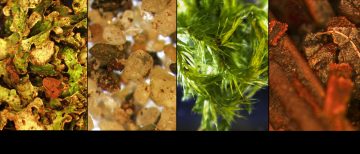 Jose M. Torres T., an undergraduate student enrolled in the Design in architecture, landscape architecture and urbanism program, captured the beauty of the materials that we often overlook using the Olympus SZX10 stereomicroscopy. From Left to Right, lichens from Totem Park Woods, Sand from Wreck Beach, lichens from gravel in MOA area, Wood and soil […]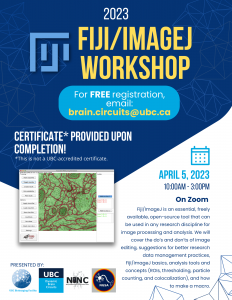 Please join us on Apr 5 10am-3pm for the 2023 UBC-UVic Fiji/ImageJ workshop. Fiji/ImageJ is an essential, freely available, open source tool in any research discipline for image processing and analysis. We will cover the do's and don'ts of image editing, suggestions for better research data management practices, Fiji/ImageJ basics, analysis tools and concepts (ROI's, […]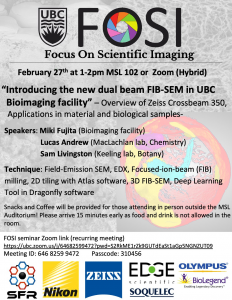 Hi everyone, We completed the installation of the new dual beam Focused-Ion-Beam (FIB)-SEM in BIF, and the equipment will be available for training and service in March. For next February FOSI seminar on February 27th at 1pm in the MSL auditorium or Zoom, Miki will give an overview of the Zeiss Crossbeam 350, Lucas Andrew […]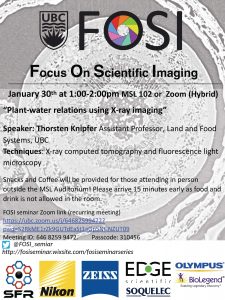 Focused On Scientific Imaging (FOSI) seminar is back for the month of January, and will take place on January 30th (Monday) at 1 pm in Michael Smith Laboratory (MSL) Auditorium 102 or Zoom (Hybrid). Thorsten Knipfer, Assistant professor in the UBC Faculty of Land and Food Systems, will be giving a talk titled "Plant-water relations using X-ray […]