Archives by date
You are browsing the site archives by date.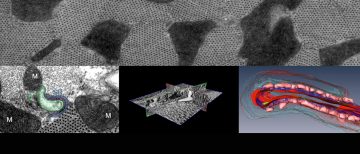 Dr. Parisa Asghari with Dr. Edwin Moore in Dept of Cellular and Physiological Sciences study the structure/function relationship of cardiac calcium channel, type II Ryanodine Receptors in health and disease. The transmission electron micrograph on the left shows a cross-section of a dyad in a normal rat ventricular myocyte, T-tubule membrane traced in green, Junctional […]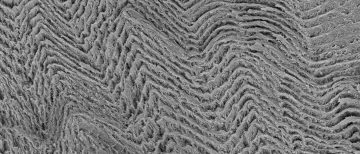 A scanning electron micrograph of anisotropic aerogel made from cellulose nanocrystals showing periodic structure. Dr. Yitao Xu in Dr. Mark MacLachlan lab (Dept of Chemistry) makes novel aerogel materials and uses Hitachi S4700 SEM  to study the surface structures.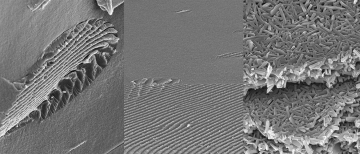 Scanning electron micrographs by Peixi Wang (PhD student) in Dr. Mark MacLachlan lab (Dept. of Chemisty). A chiral nematic liquid crystalline factoid formed by cellulose nanocrystals (left), ordered and disordered interface in a phase-separated dispersion of cellulose nanocrystals (middle), and multi-layered structures formed by vanadium pentoxide nanorods (right). Hitachi S4700 SEM was used.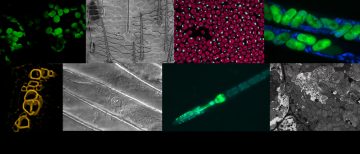 A collection of microscopy images taken by students in the Microscopy course (BIOL448C/BOTA546B) using light/fluorescence, confocal and electron microscopy.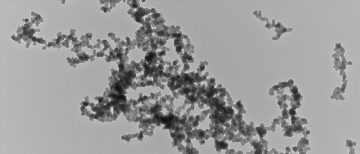 A transmission electron micrograph of the aerosol particles from a burner. Aerosols are particles of liquid or solid suspended in a gas that can affect human health and climate. Dr. Alberto Baldelli, a postdoctoral fellow, works with Dr. Steve Rogak, Department of Mechanical Engineering. He uses Hitachi H7600 TEM and FEI Tecnai TEM for Electron […]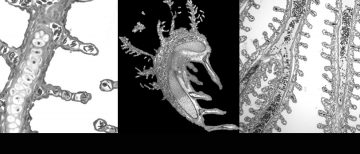 Light microscopy images of stained-transverse sections of the gills from juvenile Arapaima (Arapaima gigas) at different developmental stages. This fish, native to the Amazon River, develops a modified swim-bladder to transition from water to obligatory air-breathing as a response to hypoxic conditions during the dry season.  Dr. Andrea Frommel, a postdoctoral fellow with Dr. Colin Brauner, […]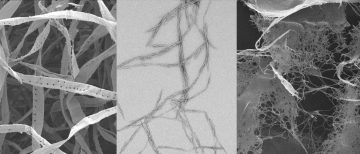 Field-emission (FE) scanning electron and transmission electron micrographs of three types of cellulose, the pulp fiber produced from Western Canada softwood fiber species (FESEM), cellulose nanocrystals (TEM), bacterial cellulose (FESEM)(left to right). Dr. Laleh Solhi, a postdoctoral fellow, with Dr. Harry Brumer, Michael Smith Laboratories, uses Hitachi S4700 SEM and Hitachi H7600 TEM to study […]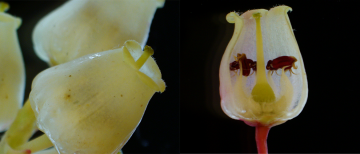 Arbutus flower imaged by Dr. Ruohan Wang (Visiting Professor from Beijing Forestry University) in Dr. Reinhard Jetter lab (UBC Botany) using Olympus SZX10 Stereomicroscope. Arbutus is a broad-leaved evergreen tree distributed only along West coast of Canada and US.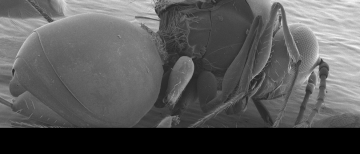 A scanning electron micrograph of Leptopilina japonica, an Asian parasitoid wasp that was found on the UBC Farm. Image courtesy of Jordan Tam (Co-op student) in Dr. Julli Carrillo lab (UBC Applied Biology, Centre for Sustainable Food Systems). They are known to parasitize Spotted Wing Drosophila (D. suzuki), a type of fruit fly that is […]