Archives by date
You are browsing the site archives by date.
New space is not ready for us to move in. Our move has been postponed to January next year.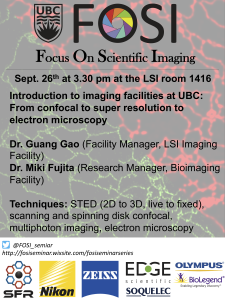 The FOSI seminar series has returned for the academic year! On September 26th at 3:30pm in the LSI room 1416, we will feature a seminar, "Introduction to imaging facilities at UBC: From confocal to super resolution to electron microscopy." Dr. Guang Gao from LSI Imaging will speak about confocal microscopy and STED, while Dr. Miki […]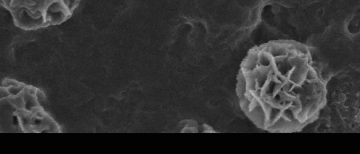 Field-emission scanning electron micrograph (Hitachi S4700 SEM) of DNA-based nanostructures self-assembled through repetitive replication of a circular template. Image courtesy of Cathy Yang, Kendrew Wong and Stephanie Nguyen from UBC BIOMOD (https://ubcbiomod.com/).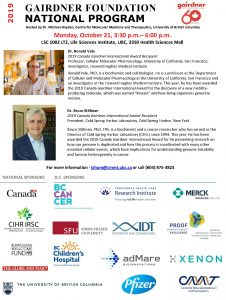 Gairdner Symposium Date: Monday, October 21, 3:30– 6pm Location: Life Sciences Institute, Lecture Theatre 2 (LSC 2), UBC, 2350 Health Sciences Mall Hosted by Dr. Michael Hayden, Centre for Molecular Medicine and Therapeutics, University of British Columbia This free inspiring public lecture will feature: 1. Dr. Ronald Vale Recipient of the Canada Gairdner International Award […]
Our move has been postponed to the week of October 21st. Please contact us if you have any questions.
If you plan to use the equipment during July 5 to 8, please make a note for yourself when and how long you've booked the equipment. BIF staff will be able to view the calendar but won't be able to add/edit the events on calendar during this time.
We will move back to our original location in the basement of BioSci Building sometime after summer. Some downtime of the equipment will be expected in September. Please plan your experiment. We will keep you updated the situation of move and equipment through the website, online booking calendar and emails. Please feel free to contact […]
The FOSI organizing committee invites you to attend a seminar by the esteemed Dr. Eric Betzig titled "Imaging Cellular Structure and Dynamics from Molecules to Organisms." The presentation will take place on June 18that 2:00pm in the Life Sciences Centre, in LSC 1. Light snacks and refreshments will be provided! Dr. Betzig is a leader […]
InterPore Kimberly-Clark Distinguished Lecture Series on Porous Media Science Technology Professor Mark Knackstedt, Research School of Physics ad Engineering, The Australian National University Digital materials design (DMD) coupled with new manufacturing techniques are emerging technologies that have the potential to revolutionize product realization on a global scale. The Economist magazine likened the emergence of these […]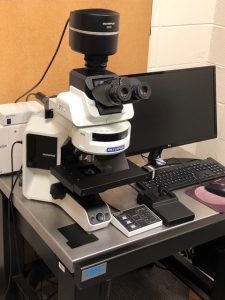 We have a New Olympus Light/Fluorescence BX53 microscope! And with a fond farewell, we have decommissioned the venerable Zeiss Axioplan2 after 18 years of service at the BIF. What's new about Olympus BX53 upright microscope? – a fully motorized X-Y Prior sample stage for image stitching, tiling & multi-position acquisition. – a DP80 Dual-chip high-resolution […]