Archives by date
You are browsing the site archives by date.
July 14th at 7am or 11am: Using multiple observation methods to get the most out of your slides For those who use the Olympus BX53 microscope and cellSens in automatic modes, you may want to check it out! Please click a link below for more information and registration. Register here for the 7am (PDT) session: […]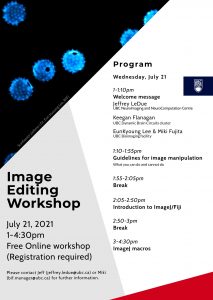 Image editing workshop will be held on July 21st (Wednesday) 1-4:30pm. Presenters: EunKyoung Lee & Miki Fujita (UBC Bioimaging Facility), Jeffrey LeDue (UBC NeuroImaging and NeuroComputation Centre), Keegan Flanagan (UBC Dynamic Brain Circuits cluster) Free/Registration required (please submit a form in the link below, registration is closed on July 16th, 2021) Registration form Scope: This […]
Registration is required for "Image Editing Workshop" on July 21st 1-3:40pm. Please submit a Registration form below.