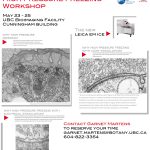 We are hosting an upcoming workshop to test out the newest high-pressure freezer from Leica Microsystems, the Leica EM ICE. This newly revised system will include light and electrical stimulation for those projects needing to elicit a cellular response and then examine the ultrastructure.
The workshop will run from May 23 – 26.
Kim Rensing will provide more details during his FOSI talk on April 26th.
Contact Garnet for more information about reserving a spot to freeze some samples.